Setting The Mood: Lighting
NEW YORK – You would think that "Mood Lighting" was always around, right? Perhaps in nature through sunrises, sunsets, lightening storms, or the wash out of a fog rolling in. Well, astonishingly enough it was HARDLY as prevalent just 50 years and barely used as recently as 30 years ago, when we speak of concert lighting!
It's amazing how much history you're not aware of regarding what you do professionally, least of all the history of the jobs and technology of the crew around you.
We, at Ferro, are very pleased to have had the opportunity to sit with a consummate professional and a good friend and associate of Ferro Productions for one extremely enlightening interview.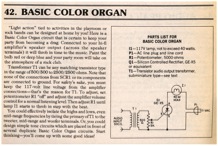 George Greczylo, "LD", sheds light on what really happens at the Illuminati level of "LD". How his mastermind fused and jelled colors, temperature, patterns and timing to become the unsung and unseen 5th member of the Quartet, so to speak, playing his version of the 21st Century color organ.
"LD". Is it "LD" for Lighting Director or Lighting Designer? Which one falls into the technical category vs creative? Who is George? What does he actually do?
Here's how he put it "Generally… Lighting Designer creates the look or the environment for the production. Lighting Director generally is who maintains that continuity for television and maintains the right levels of lighting to make sure that talent looks right." "I function more as a Lighting Designer…coming up with the total look and environment for the setting…creating much more of the emotional environment, setting the mood, making an environment that supports what is being presented on stage." It was on that very stage in Queens where lighting began to change.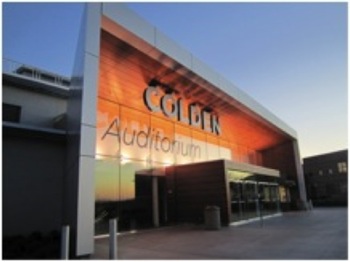 Itzhak Perlman and the audience could well have had 2 very different performance experiences at Colden Center for the Performing Arts, Queens College (awarded one of the Best Venues in NY) under King Georges' reign. "When I started there, generally any performer who came in like Itzhak Perlman, all we had was white light. You lit the show white, you lit him white, everything was lit up full levels so everybody could see, there was no mood other than just his performance." That was SOP for the times. The second time Itzhak came to Colden, George knew there was more and took a shot by NOT lighting the whole set, adding color to the backdrop, bringing lighting down to just an area so the focus was more intimate and on him. George broke with tradition established by institutions like Carnegie Hall "at Carnegie Hall we just turn white lights on, we're not going to do anything crazy, people are there for the purity of listening to the music."
And the results… in George's own words "He (Itzhak) even enjoyed it more, because he just felt it was more intimate. He wasn't standing there in this big white stage like he would do at Carnegie Hall."
So maintaining natural progression, just as sunrise follows sunset, if it's good for a soloist, it's gonna be even better for an ORCHESTRA!!!
And for that particular orchestra, the Benny Goodman Orchestra, George threw out the idea of doing something different "how about if I give you music stand lights and through the performance I'm going to try enhance and support the mood of the music for you." Not knowing just how huge an impact this will have on their performance, the Orchestra was more concerned with being able to read their music in the dark. "At the end of the concert, they all came up to me and said this was really great, we were all ENERGIZED by what you were doing with the lights…we never knew that just these little subtleties can energize our entire concert that way!" George continues, "The way they made it sound, it was the first time that any venue almost had the balls to say let's do something different with you, let's kinda break from the norm."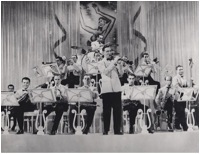 And logically, if your talent is having such a positive visceral experience wouldn't it translate to a better show for all. Keeping the musicians "naturally" pumped only keeps motivation and creativity high, no pun intended and that will translate straight through to the audiences experience.
Today a concert goer almost doesn't notice the lighting effects, as they are practically taken for granted, unless they are truly exceptional, lighting has become that silent yet extremely visual additional member of the band. Play on George…